What Can You Substitute for Buttermilk: Buttermilk is the best-used ingredient in baking and also in cooking. Because it adds a creamy, and tangy flavor to the recipes for both sweet and savory dishes.
But sometimes we will not have buttermilk when we think of making any recipe. And the recipe will not be good without buttermilk. At that time as we cannot run for buttermilk immediately for grocery shops at that time, you can use buttermilk substitutes easily at home.
Even if you dont have buttermilk, you no need to worry about them. Look into the article, to know the best substitutes for buttermilk and many more.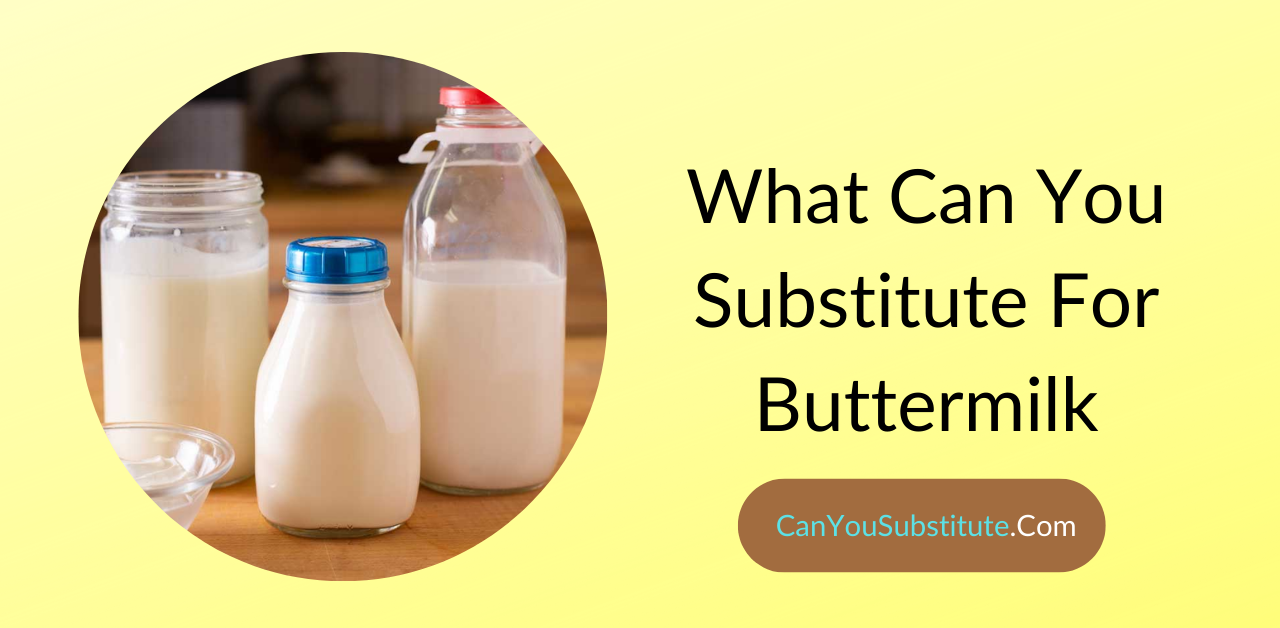 What Can I Use If I Dont Have Buttermilk? | Best Buttermilk Substitutes
Milk and Lemon Juice
Milk and Vinegar
Kefir
Buttermilk Powder
Soy Milk and Vinegar or Lemon Juice
Plant Based Sour Cream and Water
AppleSauce
Cream of Tartar and Milk
Yogurt and Water
When you remember that you dont have a stock of buttermilk to make your pancakes. Dont worry as we are going to provide you with some buttermilk substitutes, that will help you when you dont have buttermilk at home.
And these substitutes can be made easily with simple ingredients. You can try these substitutes when you are making baking and cooking recipes instead of buttermilk.
Milk and Lemon Juice
This combination of milk and lemon juice is the best substitute for buttermilk and also it is very simple to make and it will be always available for many cooks.
To make this recipe to use instead of buttermilk, you need to take one tablespoon of freshly squeezed lemon juice for one cup of milk will be the substitute for one cup of buttermilk.
Mix the lemon juice into milk and let it sit for a few minutes, after some time you will see curds in it. And you can use this substitute for baking goods.
Milk and Vinegar
As we have the best substitute above, in case you dont have lemons or lemon juice in your kitchen, you can use vinegar to substitute buttermilk. It will be the same as the milk and lemon juice recipe, just add 1 tablespoon of vinegar to one cup of milk.
It will be a proper substitution in sweet recipes. But it will not add that richness to the recipe like buttermilk.
Kefir
If you had a kefir at home it will also be one of the best substitute for buttermilk. Even if you dont have bring it to home and try it out as it will be very simillar to yogurt and it will be best to make baking goods.
Kefir is a fermented milk, that was inoculated with 5 probiotics. And also you no need to mix anything and you no need to make it, you just use store bought kefir instead of buttermilk. But always keep the unsweetened kefir with you.
Buttermilk Powder
It is always better to buy a buttermilk powder as we always dont keep buttermilk in stock and even we cannot but a lot of buttermilk for just half cup or few tablespoons. In that case, this buttermilk powder will works best than any other.
So by using this you will not have to regret that you dont use buttermilk in baking or cooking recipes. Because butter milk powder exactly taste like original buttermilk. Other Substitutes Articles:
Soy Milk and Vinegar or Lemon Juice
Soy milk is also one of the best substitute for buttermilk with the addition of lemon or vinegar. We are using lemon or vinegar just to make a chemical reaction of the baking soda in baking goods as it helps to give a zingy acidic taste to your dishes.
By using soy milk and vingar or lemon juice instead of buttermilk it gives a dish both creamy and moisture and also it taste with a distinct flavor of soy milk in your final product.
And this substitute also should be mixed with the same ratio like use one table spoon of vinegar for one cup of soy milk. and mix it well then use it as your buttermilk substitute.
Plant Based Sour Cream and Water
When you would like to go for lactose free versions, you can use this lactose free sour cream and water as the substitute of buttermilk.
To use sour cream instead of buttermilk, we are going to use one cup of sour cream with water and mix it well until it comes to buttermilk consistency. It will also taste good. And you can also use milk instead of water if you like milk.
AppleSauce
It is one of the best substitute of butter milk for baking goods. When you think of making baked goods and if you dont have buttermilk and if you are exhausted with all your dairy and dairy free alternatives in your refrigerator and you are left with no option then if you have seen this apple sauce with no added sugars in your pantry you can use it as a substitute for buttermilk.
But as it doesn't have any fat content or creamy texture like other dairy products it may not give you soft texture like other butter milk substitutes.
Cream of Tartar and Milk
Cream of tartar is not the common ingredient that we have at home. But if you are a baker, you will definetly have it. May be you got shocked by seing this name as buttermilk substitute but its true you can use cream of tartar and milk as substitute of buttermilk.
This cream of tartar is an acid thta usually use it in wine making process. But when it comes to buttermilk substitute, we suggest adding 1 and 3/4 tablespoons of cream of tartar for one cup of milk and stir it well to mix.
Yogurt and Water
Nomally, if you all know the making of buttermilk, it will be usually done with yogurt and water. It will not be a substitute but when you make the buttermilk at that point of time with yogurt and water you may not feel that tangy flavor.
When you have yogurt at home even if you dont have butermilk there will be no problem. Just whip the yogurt which doesn't have any sweet flavours with water. For 3/4 cup of yogurt add 1/4 cup of water.
As it is the very simillar to store bought buttermilk it gives you same creamy and tasty flavor like buttermilk in your baking goods. Read More: Can You Substitute Buttermilk For Milk
Substitute For Buttermilk In Baking
We always use buttermilk in our baking recipes as it will make chemical reaction between baking soda and lactic acids. But what if we dont have buttermilk at home to make a baking recipe or if you are already started to make a baking good and found that you dont have butter milk at home?
At that time you need to think of these butter milk substitute. We are going to provide you with the best buttermilk sunstitute is acidified milk. To make this solution that mimics the effect of buttermilk, we need to use 1 tablespoon of lemon juice, white vinegar or apple cider vinger, for one cup of milk.
And stire the mixture well and leave it for just firve minutes and when it starts curdling just whisk and recombine all of them and then use it in your baking recipe. This substitute is easy to make at home and gives you same texture like buttermilk for your dish.
How To Make Buttermilk Substitute | Dairy-Free Buttermilk Substitute
If you dont like to use buttermilk in your baking recipes and looking for a best butter milk substitute which is vegan or dairy free buttermilk substitute then looking into this section will help you a lot. Here we are going to provide you with some dairy free substitutes for butter milk.
Tofu with Water and Acid: If you have a tofu at home, you can use asa vegan substitute for buttermilk in baking recipes. To make this just add 1/4 cup of tofu for 3/4 cup of water and one tablespoon of lemon, just blend it well and you can use it in baking and cooking.
Unsweetened Coconut Milk and Acid: You might be hearing all these for the first time and many be thinking how it works. But try it ones if there is no option for you and you will get best output that you dont even think. To make this substitute, you need to take one tablespoon of vinegar, and add 1 cup of unsweetened coconut milk and stir it well. In the same way with same portions, instead of coconut milk you can add cashew milk and also almond milk.
Vegan Sour Cream and Water: It is also another best substitute for buttermilk to use in baking or cooking recipes. Just make it easily, by taking water and sour cream in equal portions, stir it well and if you need more water just add them according to the consistency that you need.
FAQs on How To Substitute Buttermilk
1. Can I substitute milk for buttermilk?
No, even though they look very similar but both are not same. But you can use milk as a buttermilk substitute by adding some acid like lemon juice or vnegar or cream of tartar to the milk.
2. What can I use instead of buttermilk?
When you are making baking goods or cooking recipes, adding the buttermilk will give creamy and tangy flavor to the dish. But when you dont have those store bought buttermilk you can replace with many like milk and vineger or water, or if you have curd you can make buttermilk by using yogurt and water.
3. Can I use sour cream instead of buttermilk?
Yes, you can use sour cream as a substitute for buttermilk but you need to just make it to butter milk consistency by adding milk or water. So that you can use it in baking and cooking.
In a Nutshell
We hope that we have shared you with some knowledge regarding what can you make buttermilk substitutes, for cooking and baking recipes. By using these substitutes you no need to stop your cravings to make any dish without worrying about buttermilk.
We use buttermilk to the recipes as it will have the lactic acid in it and it will be best for baking. So, we can use the replica of buttermilk too to cook any dish or bake. Still, if you have any doubts about the article, you can comment to us in the comment section below.
And for more interesting articles like these, check out our canyousubstitute.com website.