Mango Chutney Substitutes: Chutney is an Indian condiment that is either spicy or savory. It can be made with fruits, vegetables and herbs. Mango chutney is a special and tangy condiment in Indian cuisine that is made by cooking sweet mangoes with sugar, vinegar and spices.
The chutney can be used as a spread, dip, or marinade to enjoy the flavorful dishes. Nothing can replace the taste of homemade mango chutney, but other fruit-based chutneys make a great substitute. Or mix your favorite fruit jam with vinegar and chili flakes to get the flavor.
Here we are giving some of the great and delicious mango chutney substitutes along with their uses. Also, know what is mango chutney from this page.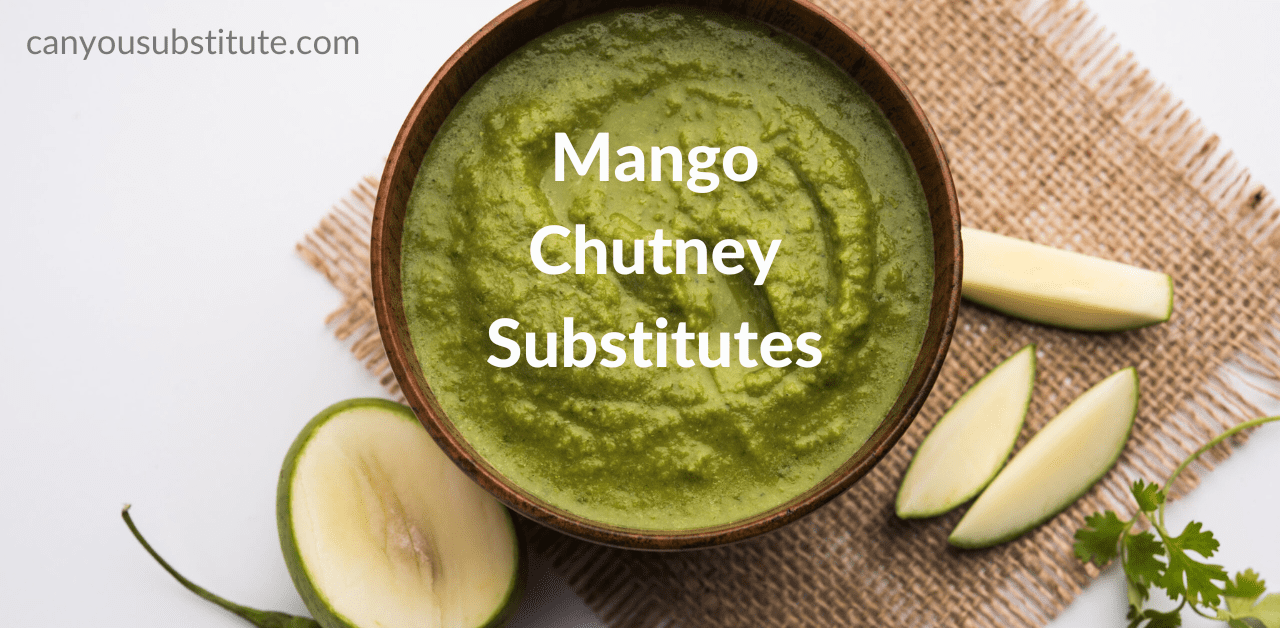 What is Mango Chutney?
Mango chutney is a condiment or sauce that is prepared with raw green mangoes, sugar, vinegar, and spices. This popular sweet-sour flavor dish pairs well with various curries, meats and other dishes.
The fresh mangoes are cooked with sugar and vinegar and then spices like cumin, ginger, and chili pepper are added to them. The prepared chutney can be stored in glass jars or served with other foods.
It can be served as a compliment to meals or used in other ingredients like omelets and sandwiches. It even makes an excellent topping for chicken dishes or grilled salmon.
Common Uses of Mango Chutney
Here are a few popular ways to use mango chutney.
As a spread for crostinis and sandwiches: Homemade mango chutney or other fruit chutneys pairs well with the sandwiches.
As a condiment/ dipping sauce: Use mango chutney or its substitutes as the dipping sauce. Tamarind paste also works well for this.
As an addition to charcuterie boards: Use mango chutney, other fruit chutneys or apricot preserves to get the sour flavor.
Best Substitutes For Mango Chutney
When you don't have mango chutney at home, don't worry. You can try other substitutes of it for making your dish delicious. The list of best mango chutney substitutes is along the lines:
Peach Chutney
Melon Chutney
Apricot Preserve
Fig Jam
Apple Sauce
Tamarind Paste
Cranberries
Peach Chutney
Peach Chutney is a great substitute for mango chutney as peaches are similar to mangoes. You can use either peach chutney or peach jam as a substitute as both wrks well. The main ingredient in it is peach.
Along with fresh summer fruits, gather fresh ginger, garlic, cumin, brown sugar, mustard, cinnamon, and chili powder to get a unique spiciness to the dish.
Cook all ingredients on medium heat, once they are thickened, store in a clean glass container. The cooking allows the different flavors to combine perfectly and provide a delicious taste.
This homemade peach chutney can be used as toppings or dip for many snacks. Peach chutney can replace mango chutney while making duck or serve it with cheese.
Melon Chutney
It is an excellent mango chutney substitute, but it is not popular. Delicious condiment melon chutney is made with ripe vinegar, sugar, and spices. You can add some herbs to get a unique flavor.
Cook all ingredients together until it is simmered to get prepared and store in a jar. It has a sweet and tangy taste with a spicy tinge just like mango chutney.
It can be used on meats or vegetables or curries or simply served with crackers or naan bread. It also makes a dip for samosas or pakoras.
Apricot Preserve
It is easy to make apricot preserves at your home. They are the best substitutes for mango chutney because of their taste and texture. Apricot's taste can vary from tart to sweet and they are similar to mangoes.
The needed ingredients for making apricot preserve are apricots, lemon juice, sugar, and salt. Boil all of them together until they make a jam texture.
It can be used as a topping for waffles, pancakes or ice cream. The prepared mixture can be stored in the fridge for 2 weeks.
Fig Jam
You might get a question about how fig jam works as a mango chutney substitute. Your doubt is right. Fig jam is sweet than mangoes, but it can be used as a mango alternative.
For making it as an alternative, add fresh lemon juice to it. The taste depends on the type of figs, so check the taste and add more sugar while making it.
You can add different fruits to this like strawberries, melon and so on. Vanilla gives flavor to your jam.
Apple Sauce
Apple sauce can be used as a mango chutney substitute in many cases. Even though it has a sweet taste, it offers a similar texture. The sauce can be prepared by cooking apples and adding spices to give a unique flavor.
To replace it with the mango chutney, add some lemon juice. You can even add more cayenne pepper or smoked paprika for the best taste.
 
Tamarind Paste
Tamarind Paste is the best substitute for mango chutney. The tamarind has a similar sweet and tangy taste but leans more towards the sour side. Add a little sugar to the original tamarind paste to reduce the sourness.
If you are missing the spicy kick from the mango chutney, then sprinkle red pepper flakes into the mixture. Replace 1 tablespoon of mango chutney with 1 tablespoon of tamarind paste.
Cranberries
Cranberries are tart and tangy fruit that are used for making jams, sauces and pies. They are also good alternatives for mango chutney with less sweetener. The simple process to make it as a mango replacement is to cook cranberries by adding sugar and lemon juice.
Lemon juice balances the sweet and tart flavors in the dish. You can also add garlic, red chili, spices, and a few herbs to get the best flavors. Serve it with honey on the meat dishes instead of mango chutney.
Do Check
How To Store Mango Chutney?
As mangoes are a summer fruit, you can prepare mango chutney in huge quantities during the summer and store them safely. Here are the tips you can follow while storing them.
Place your glass jars in hot water for 4 to 5 minutes. Remove them from the water and clean them with a paper towel.
Now, fill the required amount of mango chutney into the jars and seal them perfectly.
Place them in the refrigerator.
Grease ice cubes with oil and fill them with mango chutney. Freeze the chutney and use them.
Adding jaggery to the chutney is helpful to preserve the taste and freshness for a longer period.
FAQs on Substitute Mango Chutney
1. Can I substitute mango pickle for mango chutney?
No, you can't use mango pickle for mango chutney. Mango pickle is not the same as mango chutney.
2. What can I use to substitute mango chutney?
The best substitutes for mango chutney are Apricot Jam, Peach Chutney, Cranberries with Lemon, Melon Chutney, and Fig Jam.

3. Can I use jam instead of chutney?
Yes, you can use a few sour jams instead of chutney only when the recipe calls for either of them.

4. What can I use instead of mango?
The alternatives to mango are kiwi, papaya, apricot, peach, and nectarine.

Conclusion
Mango chutney is a popular sauce or condiment that is made with sugar, spices, vinegar, and mangoes. When you don't have this delicious ingredient to add to dishes, then there are multiple alternatives that give a similar taste.
The few substitutions of mango chutney are peach chutney, tamarind paste, apple sauce, fig jam, and apricot jam. All these replacements give a unique flavor to the dishes and make them as tastier as mango chutney.