Peppadew Peppers Substitutes: Are you getting bored of using the same flavor of peppers in your recipes? or does peppadew peppers are overpriced and not available in your nearest stores?
Don't feel bad as we have many other choices to use in your recipes instead of peppadew peppers. Peppadew is in fact a brand name for pickled piquant peppers, that are sweet, and mild spicy. 
It is a versatile ingredient that is used in sandwiches, salads, pasta sauces, and even pizzas. Most people who try it for the first time will love them instantly.
Have a look into the peppadew pepper substitutes that are given below, to try when you can't find or don't like peppadew peppers to use in your recipes.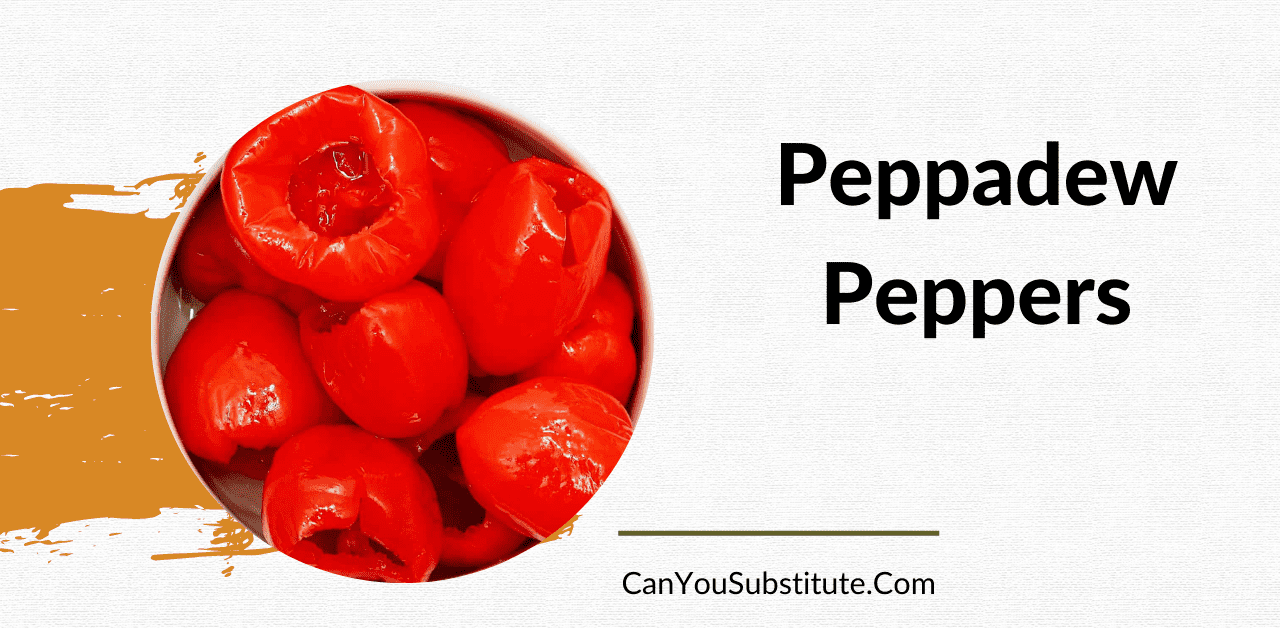 What are Peppadew Peppers?
Peppadew pepper is a piquant pepper that has been pickled. Actually, that is grown in south africa. It has a mildly spicy, tangy flavor making this hugely popular all over the world.
You can use it as an ingredient in a variety of dishes like pasta, sauces, salads, and sandwiches, and even it is good if you eat directly from the jar. When you taste these peppadew peppers you will feel a distinct taste that you cannot feel anywhere else. 
7 Best Peppadew Pepper Substitutes To Use in Cooking
Sweet Drop Peppers
Pimentos
Sweet Cherry Peppers
Giardiniera
Rocoto chiles
Pepperoncini
Fire Roasted Tomatoes
As peppadew pepper is very unique finding a substitute for it is very difficult. But we have come in front of you with some of the substitutes that give you that taste, texture, and flavor very similar.
We may not get the exact taste but we can satisfy with those substitutes. Keep on reading the below substitutes and choose the one you like according to your taste and preferences along with the availability.
Sweet Drop Peppers
One of the easy substitutes that you can find for peppadew peppers is sweet drop peppers. It is very similar to the taste and texture of peppadew peppers, and it has a mid-sweet, spicy ad tangy flavor. You can find them in any local grocery shops and supermarkets.
You can use them to toss on pizzas, and baked potatoes, and slice them up on sandwiches and garnishes. And these peppers are rich in vitamin C and boost your immune system. 
Pimentos
Pimentos are another common substitute for peppadew peppers mainly used in Mediterranean dishes. These pimentos are very similar to the taste and texture of the peppadew peppers but they are less sweet than peppadew but you can compensate with honey.
so that you can use them in many savory dishes. And these pimentos come in several colors like yellow, red, and green and each of the colors indicates different stages of growth. It originated in South America. 
Sweet Cherry Peppers
These are tiny peppers that can be used as a substitute for peppadew peppers. They are having a sweet and rich flavor and are very similar to peppadew peppers.
You can add these peppers to pasta and cheesesteaks, or you can just stuff them with cheese or meat or whatever you like. 
If you want a more exact peppadew flavor you can sprinkle some honey or sugar on these sweet cherry tomatoes. You can find these peppers in any local grocery store. These come in two colors that are red and yellow. 
Giardiniera
One more perfect substitute that can be perfect as a substitute of peppadew peppers. The advantage of using these giardiniera as a substitute is they can be available in any store.
But one drawback of these peppers is they do not have an extra sweet spicy flavor like peppadews. 
It is an Italian mix of various pickled vegetables like cauliflower, carrot, and celery and all these ingredients are marinated in olive oil. You can use this in salads, relishes, and many other recipes. 
Rocoto chiles
Are you looking for the best peppadew substitute? then check out these rocoto chiles that you can use as a substitute in your homemade recipes. But rocoto chiles are hotter than peppadew peppers.
So when you are substituting these in place of peppadew you need to use them in fewer amounts in your recipes and also remove the seeds and membranes to make it less spicy.
Mainly these chiles are used in the dishes like stews, sauces, and stir-fries. 
Pepperoncini
These are the peppers that look like small pickles they are called Italian sweet peppers and are the best substitute for peppadew pickled peppers. It has a slightly spicy flavor that remembers your peppadews.
You can buy them in any supermarket where you can find green in most of the stores. 
Another substitute can be used mostly in salads, stews, and sandwiches where you need a little peppery kick. Even because of the color of the pepperoncini, the dish looks in a different way. 
Fire Roasted Tomatoes
The name may be a little bit new but the tomatoes that have been roasted over an open flame are known as fire-roasted tomatoes and these are one of the best substitutes for peppadews.
You can also use them when you want to prepare your meal with some smoky flavor. These are the best to give a smoky flavor to the dish without using liquid smoke.
Most of these roasted tomatoes are also found in supermarkets as canned goods. 
FAQs on Peppadew Pepper Substitute
1. What does a Peppadew Pepper Taste Like?
Peppadew pepper is not a different type of pepper, peppadew is a trademark name of sweet picante peppers that can be used for pickled and bottled by the south african company of Peppadew International Ltd.
2. Are Peppadew Peppers the same as Cherry Peppers?
No, peppadew peppers are not the same as cherry peppers as they belong to different types of spices.
3. Are Peppadew Peppers hotter than jalapenos?
No, peppadew peppers are not hotter than jalapeno peppers as peppadew peppers are mild peppers that range from 500-1500 SHU.
4. What is Another Name of Peppadew?
Another name for peppadew is Juanita as peppadew is the brand name of pickled grape-size red pepper.
Key Outcomes
Hope that the information we have provided on peppadew pepper substitutes is useful for you. All the substitutes that are available in the list above are easily available in local stores or you can order online.
Try the substitute that are comfortable with and let us know your favorite in the comments.
Still, if you have any doubts, you can comment to us in the comment section below.  For other interesting substitutes, you can just check out and stay in touch with our official website.