What Can You Substitute For Heavy Cream?: Before jumping into the main topic ie., heavy cream substitutions having proper knowledge about what is heavy cream is mandatory.
So let's see that first. Heavy cream is a dairy product that is made from the high-fat part of fresh milk. Heavy cream is used in various recipes like homemade butter, sour cream, soups, ice cream, sauces, etc.
Mostly, it is used as a whipping cream to decorate cakes. If you want to have the same recipes in a healthy way then replacing heavy cream with other lower-fat or dairy-free alternatives is the better option.
Check out the best & healthy substitutes for heavy cream in baking and cooking from this guide along with other needed information.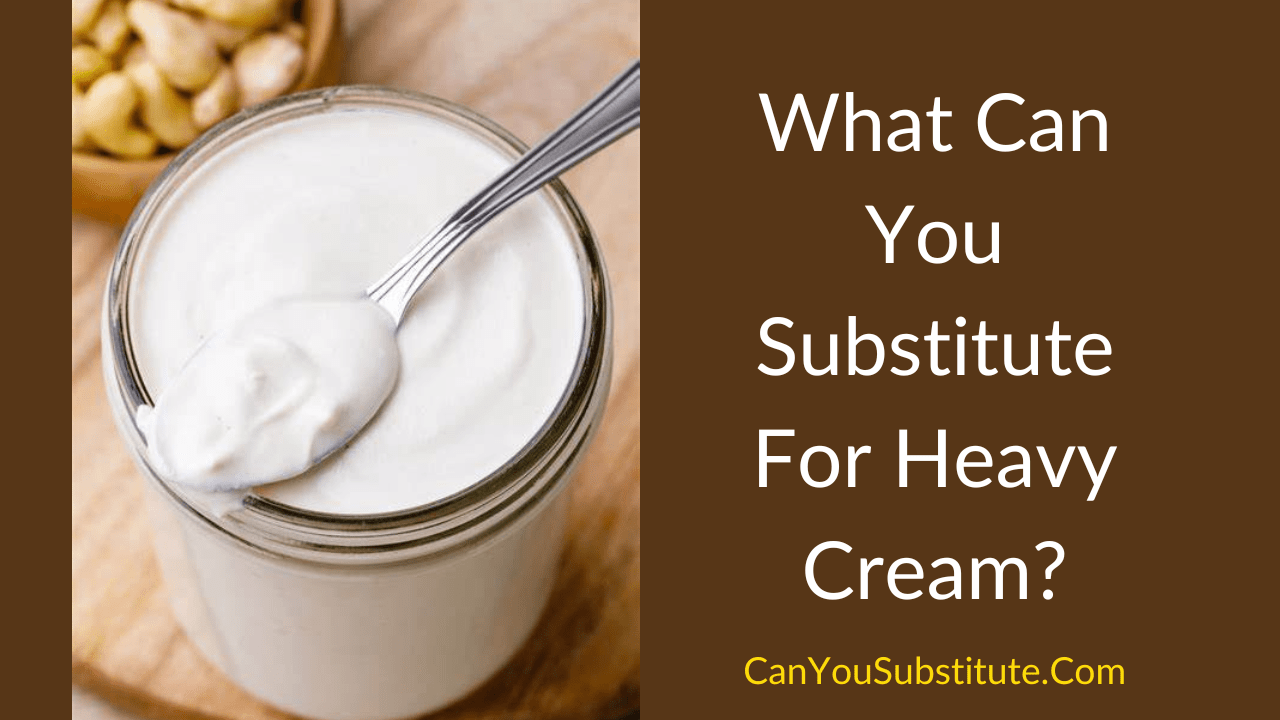 List of 10 Best Heavy Cream Substitutes in All Recipes
Milk and butter
Evaporated milk
Soy milk and olive oil
Cream cheese
Milk and cornstarch
Cottage cheese and milk
Half-and-half and butter
Silken tofu and soy milk
Coconut cream
Greek yogurt and milk
Heavy cream is the basic ingredient in everyone's pantry who love to cook savory dishes and bake more. This heavy cream can also be called heavy whipping cream because of the high-fat content ie., 36–40% fat included in it.
It rises to the top when the fresh milk is left to stand. Somehow it is important in some baking recipes but no one allows it to use in every recipe due to the high fat and dairy product.
Nowadays, people are changing their lifestyles by incorporating non-dairy and vegan food items so check out the above list of best substitutes for heavy cream and replace it when required.
The list covers all dairy, non-dairy, vegan, and healthy heavy cream substitutes. Choose the appropriate one for your use in the recipe and get the full information about it from the below explanation.
Milk and butter
One of the reliable substitutes for heavy cream is milk and butter and it goes well in almost all the recipes. Milk with butter fulfills the fat content in the recipe like heavy cream and gives the same result.
The amount of the milk and butter you need to replace 1 cup of heavy cream is 1/4 cup (57 grams) of melted butter with 3/4 cup (178 mL) of milk and mix well to form heavy cream.
Also, milk plus butter plus flour is the best alternative for heavy cream when you have low-fat milk. To the same quantities of milk and melted butter add a tablespoon (8 grams) of flour and thicken the whole liquid like heavy cream.
These two combinations go well while cooking and baking recipes. But the only downside with this alternative is, it will not work like heavy whipping cream. Must Refer:
Evaporated milk
The ideal dairy alternative for heavy cream in recipes is evaporated milk. It acts mostly like heavy cream but doesn't match the fat percentage. So, it won't whip like heavy cream but it adds a moist and creamy texture to baked goods.
Evaporated milk can be substituted for heavy cream as a one-for-one replacement and it is best for baking. Do Refer: Can You Substitute Evaporated Milk for Milk
Soy milk and olive oil
These two ingredients are dairy-free and vegan so soy milk and olive oil substitute come under the non-dairy heavy cream alternative. This combination is similar to milk and butter but the only difference is both are dairy products.
People who love to eat heavy cream-based recipes but can't have them because of the strict diet plan then choose this soy milk with olive oil substitute and satisfy your cravings.
To match the flavor and thickness of 1 cup of heavy cream, add 2/3 cup of soy milk with 1/3 cup of olive oil. This gives tenderness and a nice flavor to your dish but it is not at all suitable for whipping like other substitutes. Related Posts:
Cream cheese
Cream cheese contains high-fat content than heavy cream. Well, cream cheese can't be the first preferred substitute for heavy cream because it is too heavy to whip. Cream cheese substitute is best for thickening the recipes like soups, sauces, frostings, gravies, etc.
The substitution ratio used to replace heavy cream with cream cheese is a 1:1 ratio. All the recipes that allow thick and creamy texture can use this substitute in place of heavy cream.
Milk and Cornstarch
One more low-fat dairy alternative for heavy cream in cooking and baking recipes is milk with the cornstarch. As we all know that cornstarch is best at thickening so it thickens the milk and replaces the heavy cream texture.
To swap 1 cup (237 mL) of heavy cream, take 2 tablespoons (19 grams) of cornstarch and 1 cup (237 mL) of milk in a bowl and combine both until it thickens. Finally, use that mixture in the recipe and enjoy the dish.
For better taste and texture opt for whole milk or skim milk. It is the best substitute in cooking recipes but not that much worth in baked goods and whipping. Also Check:
Are Heavy Cream and Whipping Cream The Same?
Yes, heavy cream and heavy whipping cream are exactly the same. It does use in sauces, soups, cakes, etc. There is no doubt in raising such a question because some brand prints the item name as heavy cream and some label it as heavy whipping cream.
Don't worry, doth creams are great at whipping so whip up your choice of heavy cream and add it as topping on hot chocolate or pumpkin pie or banana split or muffins or cakes, etc.
How to Make Whipped Cream from Heavy Cream?
Making whipped cream from heavy cream is simple when you follow these following steps carefully. Here comes a step-by-step guide to preparing whipped cream:
Firstly, gather all the required ingredients and things to make whipped cream.
The things you need are a metal mixing bowl, mixer beaters, an electric mixer, and a hand whisker. Ingredients used to make whipping cream are heavy cream, sugar (granulated or confectioner's sugar), and Vanilla essence.
Once you gathered all the required items then start with the preparation.
Initially, you have to freeze the bowl and mixer beaters for a minimum of 15 minutes. Also, keep the cream in the fridge till you're ready to start whipping.
After chilling all the things and cream for sufficient time take them out and add cream into the bowl. If you want to make sweet whipping cream then add sugar at this moment.
First, Take 2 tablespoons of granulated sugar or confectioners' sugar per cup in the bowl.
Next, add heavy cream and start mixing at low with an electric mixer or mixer beater. If you want to flavor the whipping cream then add vanilla extract at this point.
Whisk all the ingredients gently until firm peaks form.
Now, change it to medium-high and whip it till it forms barely firm peaks.
Don't whip too much because there is a chance to separate into sweet butter. If you think your whipped cream goes a little grainy then add some more unwhipped cream and whisk it properly with a hand whisker.
After completing the whipping process, rest it in the fridge till you are ready to serve. When you see deflates a bit while serving, whip it slightly with a hand whisk and it will be back into shape.
Difference Between Heavy Cream And Half And Half?
A mix of whole milk and heavy cream in equal parts is called half and half. The fat in the cream is more than half and half.
The fat percentage in half and half ranges between 10.5% and 18% based on the cream. If you want to get some awareness about freezing half-half then study it here: Can Freeze Half Half
FAQs on What Can You Substitute For Heavy Cream in Cooking, Baking, Whipping?
1. Can I use milk instead of heavy cream?
Yes, you can use milk instead of heavy cream. Whole milk or skim milk are the two best options to substitute heavy cream in recipes. As it cut the unwanted fat and calories of your recipe. The only downside is can't be whipped as heavy cream does.
2. What can I substitute for heavy cream in a sauce?
Choosing a specific ingredient that can replace heavy cream in a sauce is tricky. As there is plenty of heavy cream alternative options for sauce or creamy coups and some of them are Milk & Cornstarch, Half & Half Plus Butter, Plain Yogurt, Whole Milk & Butter, Greek Yogurt + Milk, Evaporated Milk, and Sour Cream.
3. How to make heavy cream at home?
Making a heavy cream is very simple. If you bagged the two main ingredients like milk and butter then preparing heavy cream at home is quite easy. Simply mix 1/4 cup of melted butter and 3/4 cup milk and whisk for a minute to form the texture of heavy cream.
The drawback of heavy cream made at home is it will not whisk into stiff peaks. You can use this heavy cream in cooking and baking.
4. What are the healthy substitutes for heavy cream?
A list of the best healthy replacements or substitutes for heavy cream is as follows:
Key Takeaways
Now you know complete details about what can you substitute for heavy cream. Try using heavy cream substitutions properly in baking & cooking recipes and enjoy them in a healthy way.
In case you're planning to bake a cake without eggs then checking this guide called What can you substitute for eggs will be helpful for you to some extent. Also, you can find more content related to food substitutions on our site canyousubstitute.com in just a few clicks.