What Can You Substitute For Cornstarch?: Cornstarch is a thickening ingredient that helps soups, sauces, gravies, custards, and others to thicken properly and gives an amazing feel while consuming.
At times, you think of having the can full of cornstarch in the pantry but in the end, you won't find enough quantity of cornstarch to add. Now, you don't have to fret, as we have come up with the ultimate guide on the same ie., what can you substitute for cornstarch?
This article helps people to know that there are so many alternatives you can use instead of cornstarch in baking and cooking.
If wondering what are they then simply jump into the below modules without any delay and use the other best and healthy cornstarch substitutes while cooking & baking.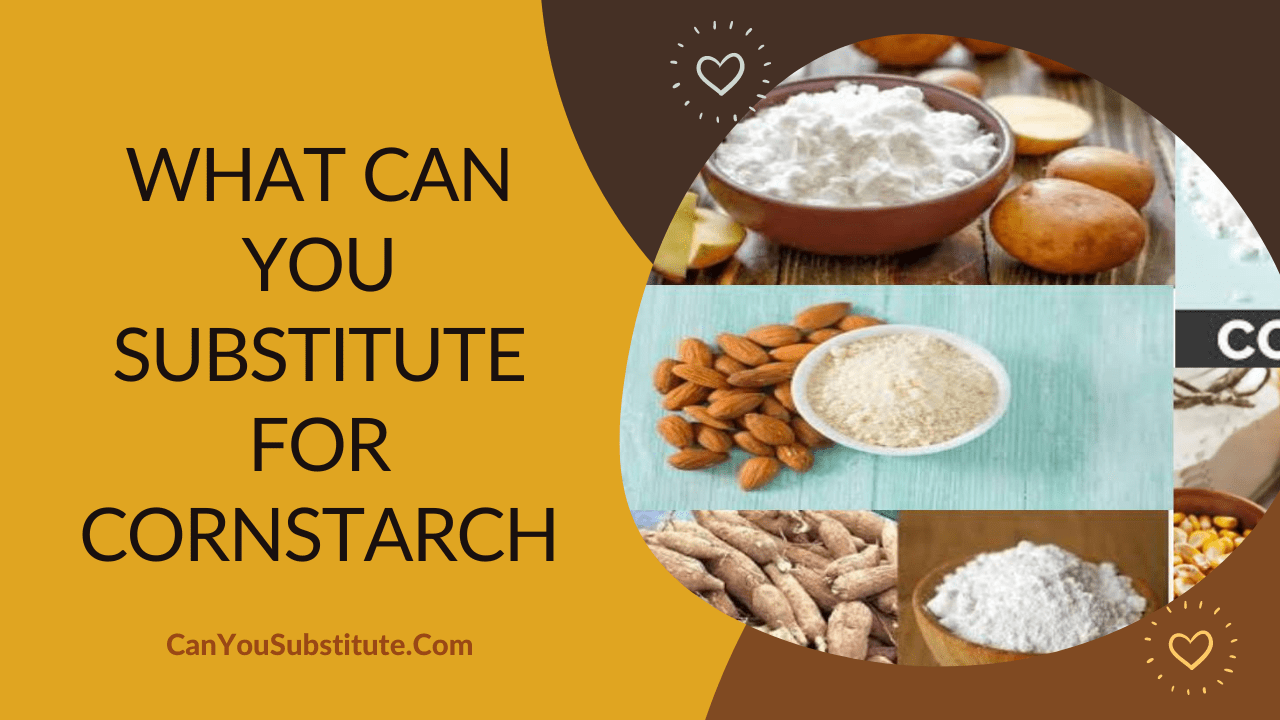 List of 8 Best Cornstarch Substitutes For Cooking & Baking
Arrowroot Powder
Rice flour
Wheat flour
Potato starch
Tapioca starch
All-Purpose flour
Psyllium Husk
Xanthan Gum
The list of best cornstarch alternatives in cooking and baking is here. Now, you will also find detailed information about each substitute for cornstarch along with the substitution ratio from the below sections.
So, please jump into the modules and collect the required information about cornstarch replacement in recipes with other best substitutes. Related Guides:
Arrowroot Powder
Arrowroot powder is made from different tropical plant roots like cassava too. It is also called arrowroot starch or arrowroot flour. Mainly, this is useful in baking recipes to add airiness to vegan desserts and gluten-free baked goods or desserts.
Also, it can be used to thicken the recipe too. Arrowroot is not at all good with heating hence dessert is the best option to substitute for cornstarch. How to substitute arrowroot for cornstarch is the biggest question for everyone.
No worries, when we are here simply dissolve it in cold water in a 1:1 ratio and add that liquid to the sauces or soups to sit at room temperature.
Rice flour
Rice flour is the most commonly used substitute for cornstarch. It is a fine white powder that was made from milled rice and it is gluten-free.
Rice flour is a great alternative to cornstarch to make some crispy recipes like fried chicken batter, or to coat paneer, tofu or vegetables before frying. You can even use this for thickening the recipe like cornstarch but in double quantity.
When you use 1 tsp of cornstarch in the recipe, the two tsp of rice flour is required to use as a replacement in cooking, frying, and baking. Also See: Can You Substitute Almond Flour For Regular Flour
Wheat flour
Wheat flour is one more flour-type staple ingredient that can be substituted for cornstarch in recipes. Wheat flour includes protein, fiber, and starch too so it can be easily replaceable with cornstarch and get the same results.
Using the double quantity of wheat flour matches the cornstarch effect in the recipe for thickening or else for crispy fried foods. So, take two tbsp of wheat flour for 1 tbsp of cornstarch in the cooking or baking recipe.
Especially, when you are using wheat flour substitute instead of cornstarch to thicken the sauce or any food, you have to take the wheat flour in a small bowl and add cold water to make a paste. Now, take this thin paste and add it to the recipe for clump-free and non-sticky results. Must See: Can You Substitute Cornstarch For Flour Potato starch The making of potato starch is very similar to cornstarch.
Firstly, smash the potatoes then dry and milled into a fine powder for creating a starch derivative. Potato starch is a gluten-free and low carbohydrates substitute for cornstarch in cooking and baking.
People can easily find this gluten-free potato starch in mainstream grocery stores, health food stores, & online stores. The substitution ratio to replace cornstarch with potato starch is the 1:1 ratio.
The thickening power in potato starch is more compared to cornstarch so it thickens very quickly. Hence, add the starch mixture at the end of the recipe and avoid thickening up too much.
Tapioca starch
Tapioca starch is one of the best substitutes for cornstarch. This is a mild-flavored ingredient that comes from the cassava root with low thickening power than cornstarch.
Hence, the substitution ratio would be like 1:2 means for every 1 tsp cornstarch, add 2 tsp Tapioca starch. Remember to avoid boiling with Tapioca starch as it makes the recipe stringy. Also, you can freeze Tapioca starch without any breakage like cornstarch.
All-Purpose flour
All-purpose flour is a staple thickener ingredient like cornstarch in recipes. So, you can use all-purpose flour instead of cornstarch in cooking and baking but it involves half the thickening power of cornstarch.
Hence, substituting the double quantity of all-purpose flour for cornstarch in the recipes gives the desired result. For example, if the recipe calls for 1 tablespoon of cornstarch, then substitute two tbsp of all-purpose flour to get the job done in no time.
Also, you can check the Can You Substitute Flour For Cornstarch guide for a better understanding of the substitution and differences. Do Refer:
Psyllium Husk
Psyllium husk is a rich plant-based soluble fiber ingredient that has low carbs and functions as a thickening agent. So, it can easily be used as a cornstarch substitute.
It thickens the liquid so fast than cornstarch hence adding a small amount of husk does your job perfectly. Using psyllium husk instead of cornstarch in soups and stews works great. So, add ½ teaspoon of husk to the recipe at first and then add more to get the desired consistency.
Xanthan Gum
Xanthan Gum is a cornstarch alternative that can thicken the recipe in a pinch and is helpful for gluten-free people. Mostly, people who are on a diet opt for this ingredient to use in various gluten-free baked goods.
Moderate usage of xanthan gum gives best results than using too much in your dish because it can turn into a gummy. So the portion you need to consider while using xanthan gum is ⅛ teaspoon of xanthan gum per cup of liquid.
Other Thickening Techniques To Use Instead Of Cornstarch
There are various other thickening techniques you can follow as they help to avoid cornstarch in the recipes. The techniques are:
Blended Vegetables: The leftover veggies puree can help you thicken your recipes like tomato-based sauce and it's very healthy and nutritious too.
Simmering: Yes, cook your dish on low heat for extra time and it will slowly thicken your dish by evaporating liquid.
Sour Cream or Plain or Greek Yogurt: Basically, these ingredients can be great substitutes for cornstarch more than technique. By adding these ingredients instead of cornstarch your sauce or gravy will be creamier and thicker.
Some Other Related Articles:
How People Use Cornstarch In Cooking And Baking?
There are so many uses of cornstarch in cooking and baking applied by people in their daily life. The most commonly used ones are listed here for your reference if you're a beginner to using cornstarch in food:
Mainly, it is used to thicken ice cream, fruit pie filling, pudding, soups, sauces, gravies, curries, custards, etc.
Used to provide extra crispy for fried foods.
Addition to flour in shortbread to create an extra-tender crumb.
Use cornstarch with water in scrambled eggs to cook fast and to avoid getting rubbery.
Marinade for stir-fried seafood or meat to coat properly and maintain the protein tender and silky.
Can I Add Cornstarch Directly To A Liquid To Thicken The Recipe?
No, adding cornstarch directly to a liquid to thicken the recipe can create lumps. So, take the required amount of cornstarch in a small bowl and add some water and mix it well into a thin paste without any lumps then add that mixture to the recipe for further cooking and enjoy it. Do Check: Can You Substitute Baking Powder For Baking Soda
FAQs on What Can I Substitute For Cornstarch in Baking & Cooking?
1. What is Cornstarch and what is it used for?
Cornstarch is produced from the endosperm located in the middle of the corn kernel. The starch is the powder form of the endosperm inside the corn kernel hence it is called as cornstarch. It is not at all similar to corn flour.
Mainly, this fine white powder is used as a thickening agent in soups and sauces, also it is used to coat the veggies or meat before deep frying for a crispy texture.
2. Can you substitute flour instead of cornstarch?
Yes, you can absolutely substitute flour instead of cornstarch. You can add white flour or wheat flour for cornstarch but in more quantity. In case, you need to add 1 tbsp of cornstarch to the recipe, then use 2 tbsp of white flour for the same result in the recipe.
3. What is the best substitute if cornstarch is not available?
Choosing the best substitute out of numerous good substitutes for cornstarch is very tough but some of the best yet easy to find in your pantry as cornstarch alternatives are wheat flour, arrowroot flour, and rice flour.
As they are good for health too because they include fewer calories and carbohydrates, also more nutritious.
4. Can I replace cornstarch with baking powder?
No, it's not at all advisable to replace cornstarch with baking powder or baking soda because they are leavening agents and add another flavor to the dish.
Moreover, cornstarch is used mostly to thicken the sauce or soups, but baking powder or soda doesn't thicken your dish so it is not a good substitute for cornstarch.
5. What can you substitute for cornstarch in slime?
You can substitute any flour-type ingredient or else baking soda for cornstarch in slime. The gluten and protein found in the flour ingredient work like glue and help to make slime without cornstarch or glue or borax.
Key Takeaways
Cornstarch Alternatives can work so well like cornstarch in many recipes so don't rush to the market when you run out of cornstarch while cooking try these best substitutes instead of cornstarch and finish preparing the dish.
No changes will be seen by you after substituting any of the cornstarch alternatives in the recipe. If you need to know more about what can you substitute for cornstarch or other food substitutes then bookmark or visit our website @canyousubstitute.com within seconds you can find the required stuff.