Can You Substitute Coconut Oil For Butter?: Can I Use Coconut Oil Instead of Butter in cookies? Can coconut oil be a substitute for butter in baking recipes? and many more questions have been raised in everyone's mind when they run out of butter in a pinch.
At that time, people immediately get tensed to visit the stores and buy some butter for the recipe. Sometimes you can't visit the stores at that point the substitutes can help you out. Today, we are going to learn about one of the best butter substitutes ie., coconut oil.
Now, you may wonder if can I use coconut oil for butter in a recipe. Just scroll down the page and get the answer to your biggest query from here and clarify all your confusion with our explanation or by contacting us at the end.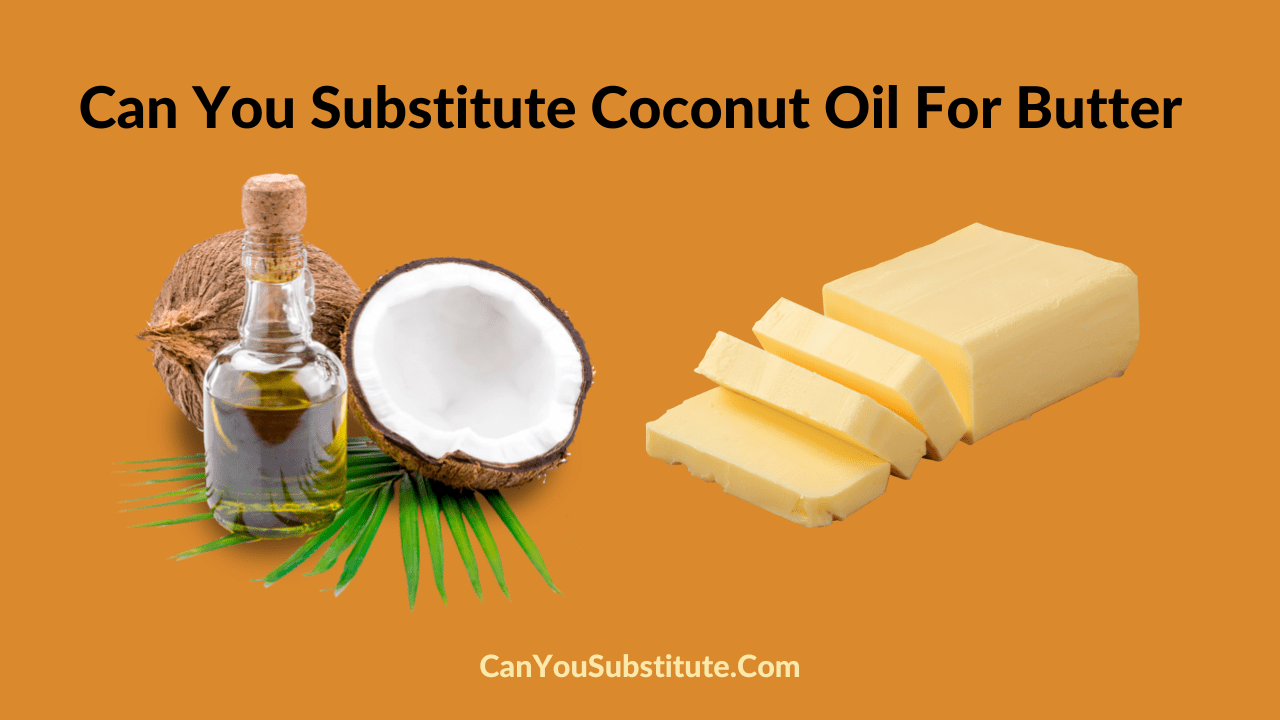 Can I Use Coconut Oil Instead of Butter For Baking, Cooking & Frying?
Yes, you can substitute coconut oil for butter in recipes like baking and a few cooking dishes. By using coconut oil, your baked goods may taste like coconut at the end but it looks similar to butter ones.
You can even switch to coconut oil while shortage of butter in cooking recipes. In desserts, the flavor of coconut will be quite delicious rather than butter so you can blindly swap with each other with a proper substitution ratio.
To get clarity on how to replace butter with coconut oil, jump into the next section without fail. If you don't have coconut oil at hand then try another alternative for butter by referring to our article "What Can You Substitute For Butter?"
How To Substitute Coconut Oil for Butter In Recipes?
Now you know about Can Coconut Oil Be Substituted For Butter? But one important step you need to take with mind calculations is how much quantity you need to replace butter with coconut oil.
Usually, the standard substitution ratio is 1:1 in many recipes. But in recipes like cookies, the replacement should be done at a 1 to 0.8 ratio. As you know that butter contains 20% water so reduce 20% coconut oil while replacement gives better like soft and chewy cookies or baked goods.
In case, you are worrying about the end results after swapping these two fats in recipes do check the below information once as it provides better knowledge. Related Articles:
What happens if I replace butter with coconut oil in Baking?
Coconut oil can be substituted for butter at a one-for-one replacement but can't swap 225g of butter with 225g of coconut oil in a recipe and get the same results.
The baked goods made with coconut oil leave the coconut flavor at the end and are also greasy and crumble. The differences between each fat and its effects when baking is tabulated below:
| | | |
| --- | --- | --- |
| Property | Difference | Effect |
| Texture: | coconut oil comes with a low melting point | Enjoy thin & crisp biscuits but the pastry will flake less |
| Flavor: | coconut oil has a mild flavor of coconut but butter has a salted flavor as it extends the shelf life | Baked goods end up with a coconut taste. |
| Hydration: | The fat content in coconut oil is 100%, while in butter the fat content is 80% and 20% water. | bakes will be greasier |
| Structure: | coconut oil has no water content to develop gluten strands | results soft and crumble |
| Crust: | coconut oil is white and does not include milk sugars and proteins to boost browning | bakes will have a paler crust |
Also Check:
FAQs on Can I Substitute Coconut Oil for Butter In A Recipe?
1. Is coconut oil and butter interchangeable?
Yes, coconut oil and butter are interchangeable they work great as substitutes for one other in many recipes like baked goods, and other snack recipes.
2. Why is Coconut oil a good substitute for butter?
Coconut oil is a good substitute for butter because it doesn't include water in it. Coconut oil is pure and 100% fat which makes the recipe crisper and tender.
Key Outcomes
We hope the data shared on this page regarding whether can you substitute coconut oil for butter will help everyone who looks for alternatives at the last moment.
In case, you won't find the best substitutes for butter to cook or bake any of the recipes then make sure to visit our website or comment us below for assisting you with the perfect replacement and guide you on how to replace it properly.