What Can You Substitute For Butter?: Butter is a fat-based dairy product used in various recipes for richness and to enhance its taste.
Most of the baked goods recipes call for butter and also it is mostly used as a spread in breakfast or in lunch recipes like bread, toast, roti, paratha, etc. Some people want to avoid butter in their foods to such people we are here with an interesting guide ie, What Can You Substitute For Butter in baking and cooking? Yes, this article is completely on the butter alternatives that can be used as spread or baking ingredients without compromising the taste and texture of the final product.
You can find the best and most healthy butter substitutes for cooking and baking here with the substitution ratios. Along with the top-best substitutes for butter, you can also gain some knowledge on the reasons to replace butter with other alternatives and the purpose of butter in baking.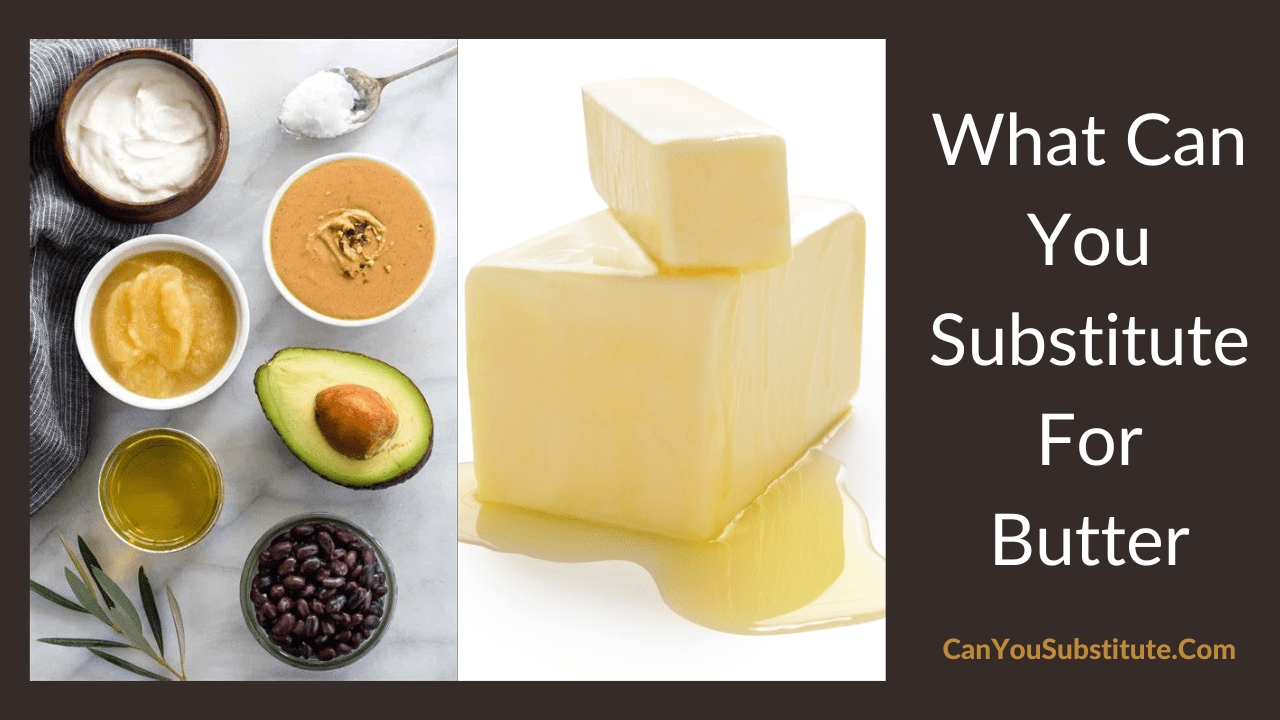 What Are the Best Substitutes for Butter?
A list of butter substitutes that help you cook your recipe with top-notch taste and texture is curated here:
Coconut oil
Coconut butter
Olive oil
Vegetable oil
Vegetable shortening
Ghee
Yogurt
Vegan butter
Nut butter
Applesauce
Avocado oil
Avocados
Pumpkin Puree
Mashed Bananas
Cheese
Hummus
Pureed Beans
Prune Butter
Mayonnaise
Plant-Based Butter
What is the purpose of butter in baking?
Baked goods with butter add richness and flavor and also give a moist texture as it functions as a leavening agent. So it results in airier baked goods along with fluffy and light-textured foods.
Top Fat & Oil-based Substitutes for Butter in Baking
The main reason to use butter for baked goods is to react with acid properties and function as a leavening agent to give a rising product.
It also increases the taste of your baked good with great texture. Here, we are going to see some of the best fats and oils that can swap butter in baking recipes.
Coconut Oil
Coconut oil is one of the best substitutes for butter but it leaves the coconut flavor in the final product. If you want to avoid the coconut flavor then using refined coconut oil is the best way.
Else, you can go for the other butter substitute too. The substitution ratio of coconut oil for butter is 1:1 ratio in baking & cooking too.
Vegetable Shortening
Shortening can also be interchangeable with butter in baking. Shortening doesn't add any flavor but butter does add a mild flavor. If the flavor is not a matter for you then heading with shortening in baked goods is a great choice.
Also, it has a high melting point than butter so you can enjoy lighter and airier baked goods compared to butter-baked goods. In case, you run out the shortening then referring to this guide helps you complete your recipe correctly "can you substitute butter for shortening".
Olive Oil
Swapping butter with olive oil is a healthy option in baking & cooking recipes. It goes well in baked goods, sauteing, and cooking soups & sauces.
You can replace melted butter with olive oil easily just by following this substitution measurement, for 1/4 cup of butter or 4 tbsp of melted butter use 3 tbsp olive oil.
Ghee
Ghee is the best and healthiest substitute for butter because it doesn't contain any casein or lactose so people with lactose intolerance or milk allergy can pick this substitution option in place of butter in baking.
As ghee is a clarified butter type so replacing the cup-to-cup ratio is advisable. Both butter and ghee have similar properties, so it makes your baked goods so yummy. Also Check:
Additional Butter Substitutes for Baking
Not only fat and oils based substitutes, we gonna explain other alternatives for butter which are made from vegetables or fruits or nuts, etc. By using butter in baked goods, it gets super moisture in texture and flavor.
You can go with the trial and error method while using these butter substitutes and enjoy the recipe's taste and know which substitute works well as per the taste of the original recipe.
So, check out the following food substitutes for butter in baked goods like muffins, pancakes, cakes, cookies, brownies, and bread.
Mashed Bananas
To cut down the calories and fat in butter the best alternative is mashed bananas. Also, it is rich in providing more nutrients.
Keep on adding the puree of banana and mix it well with the flour and other ingredients till you reach the correct consistency in the batter. You can do a cup-to-cup replacement or else make adjustments as per your knowledge and requirement.
Prune Butter
One of the best substitutes for butter but it takes a lot of effort to make. If you want to give it a chance by substituting the pruned butter then follow these steps.
Simply take ½ cup pitted prunes and ¼ cup hot water in a blender and blend it well. Now, the substitute is ready to go in baked goods like flavored rolls, and many more.
Pumpkin Puree
The best nutrient-rich alternative for butter is pumpkin puree. You can get a store-bought or homemade pumpkin puree to use in baking recipes. The substitution quantity is like adding 3/4 the amount of pumpkin purée in place of butter.
Applesauce
Basically, applesauce substitutes can be used instead of butter to strictly cut down the fat and calorie content in baked goods. Although, it adds sweetness to the final product so make sure to adjust the sugar amount in the batter or dough while preparing.
Other Butter Alternatives That Can Be Used As Spread
Most of the time, butter can also function as a spread for bread, crackers, toasts, roti, and other various food recipes. Hence, for substituting butter as a spread also we have collected some replacements and curated them over here.
These substitute foods match the consistencies that are perfect for spreads and results so tasty and nutritious compared to butter. So let's see:
Avocado: Avocado puree or avocado oils work great as a substitute for butter in terms of spread on toast or bread.
Cheese: For people who can take dairy products in their diet can go for the cheese types substitute like cottage cheese, cream cheese, or ricotta as a spread in place of butter.
Nut Butter: There are two nut butter substitutes that can replace butter as a spread on bread or crackers or toast. They are peanut butter and almond butter.
Hummus: Hummus can be used as bread spread or as dipping so in both ways you can substitute for butter and enjoy the healthy consumption of food.
Best Butter Alternatives For Cooking
When you have collected the information on baked goods now it's time for knowing the best substitutes for butter in cooking. In cooking, you can prepare the recipe via sauteing or pan-frying or deep-frying, or boiling.
As per the recipe, you pick the correct way and start your cooking with the best butter substitute like olive oil or avocado oil. These two oils have a low smoke point that matches butter so both will work great as a substitute when cooking.
For substituting butter in frying, the high smoke point oils work great so using canola oil or peanut oil is the best choice. The substitution ratio for oil and butter is like a 1:1 ratio means using the same amount of oil that the recipe calls for butter.
If you want to learn more about swapping butter and oil then go with this informative guide called can you substitute butter for oil? To replace butter in scrambled eggs, mashed potatoes, or grilled cheese, the best substitute is Mayonnaise.
So try once to swap butter with mayo and understand how it tastes. In case, you are cooking some sauces or soups then using Heavy whipping cream, creme fraiche, or sour cream as a substitute for butter works great to thicken your recipe. Do Check Other Substitute Articles:
Reasons To Replace Butter In Baked Goods And As Spread
The following are some of the common reasons that you can start taking the butter substitute in your regular food or baked goods or diet food.
Lactose Intolerance: People who don't take dairy products are called lactose intolerant persons. Butter contains a small amount of dairy product as it extracts from the dairy product so they can't take risk of using butter in any of the recipes. Such people look for butter substitutes to enjoy the food in other possible ways.
Allergy: If you have an allergy to milk or other dairy products then avoiding butter intake is the best choice. Do take preventive measures while eating any of the baked goods.
Health Issues: People with health problems like weight gaining or heart disease or cholesterol should stop butter intake in recipes or baked goods or as a spread. Also, you can cut down the calories and fat by replacing butter with non-saturated fat or a less-calorie butter substitute.
FAQs on Healthy Substitutes for Butter in Cooking & Baking
1. Can I substitute oil for butter?
Yes, you can substitute oil for butter in cooking, baking, and frying. The substitution can be done like this if you are using one cup of butter in the recipe then replace that with ¾ cup of oil of your choice.
2. What is the best fat substitute for butter when baking?
Top 5 fat-based substitutes for butter when baking are as follows:
3. What is the substitution for 1 cup of butter?
For one cup of butter, you can substitute 7/8 cup of oil, 4/5 cup of bacon fat(clarified), or 7/8 to 1 cup of hydrogenated fat plus ½ teaspoon salt, or 3/4 cup chicken fat, or 1 cup of margarine.
Key Takeaways
Now, you know that there are plenty of food substitutes that can replace butter in baking and as a spread so try making your favorite baking recipe or cooking recipe with the butter substitute and share your experience with us via the comment section so that people will show some interest in using other alternatives for butter.
For more information on what can you substitute for butter and other substitutes visit our website canyousubstitute.com