What Can You Substitute For Soy Sauce?: Guys who are looking out for the dietary and best substitutes for soy sauce in stir-fries, sauces, soups, marinades, etc. can grab the opportunity of referring to this guide and easily get the knowledge on what are the best alternatives for soy sauce you can try in almost all recipes. Soy sauce provides the umami flavor strongly along with the salty, tangy, and savory taste of the recipe. Well, people with allergic reasons to soy and wheat can also use these soy sauce substitutes for replacement and enjoy the food in a healthy way. In this article, you all are going to learn a few store-bought and homemade substitutes for soy sauce along with the definition and steps for the preparation of soy sauce. Let's dive into this guide ie., what can I substitute for soy sauce & find the solutions in no time.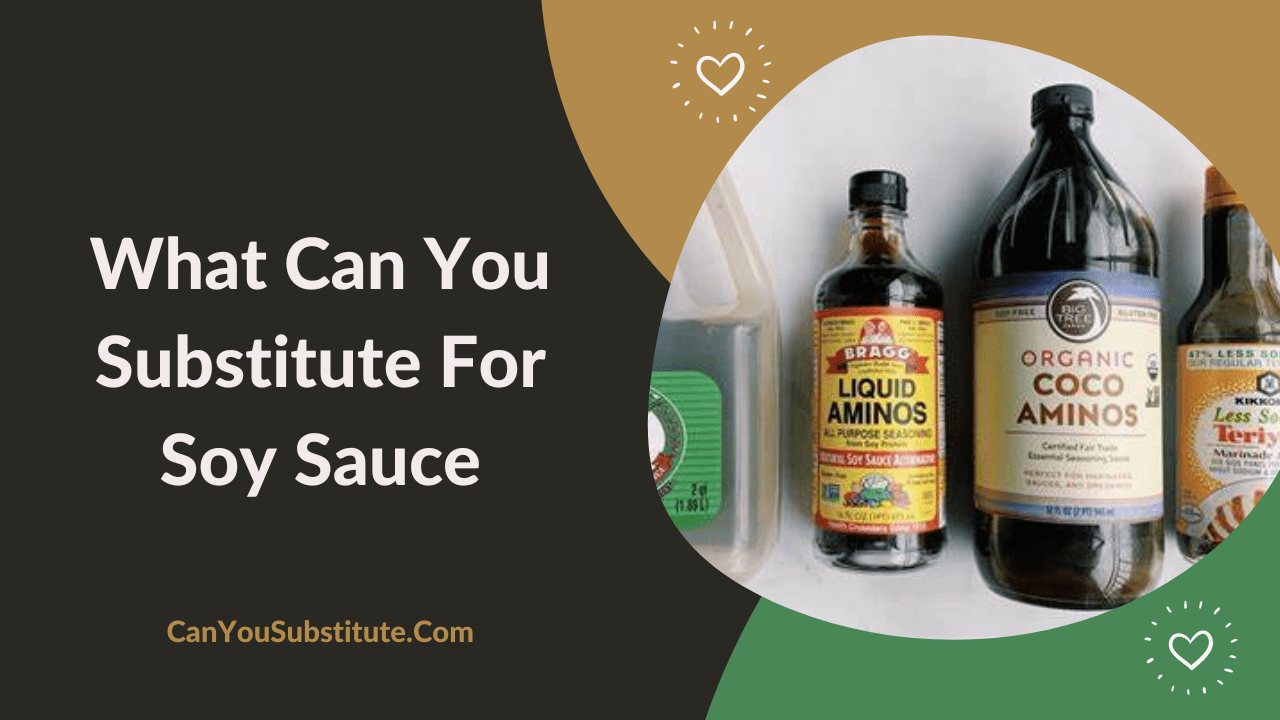 What is Soy Sauce? | Process of Making Soy Sauce
Soy sauce is a salty brown liquid called shoyu prepared by fermenting soybeans, brine, roasted grains, and koji. The making process of traditional soy sauces takes months and months. Here you will see the whole fermentation and making procedure of soy sauce. Let's start:
Initially, soak and cook the soybeans and roast and crush the wheat.
Now, take this mixture and inject the koji and brine. Later, left to brew.
After the above step, squeeze the liquid from the solids, pasteurize, and bottle.
Finally, the making of soy sauce is completed and now you can store and use soy sauce in many recipes.
Based on the country and region, the flavor of soy sauce varies and it can also find in various varities and colors like dark, light, sweet, and thick.
List of Best Substitutes for Soy Sauce You Must Try While Cooking
Worcestershire Sauce
Tamari
Coconut Aminos
Liquid Aminos
Homemade Soy Sauce
If you look for other options for replacing soy sauce due to health reasons or dietary then above is the list of substitutes that holds some similar ingredients but doesn't match exactly in terms of the taste of the final food. So, replace it slowly and then check the taste of it, if needed more then add more for the perfect flavor of the dish.
Worcestershire Sauce
The sauce that goes through the fermentation process and contains anchovies, salt, sugar, vinegar, and spices is called Worcestershire Sauce. The origin of this sauce is England. It is known for its strongest umami flavor and it is tangy but not salty. When replacing soy sauce, you can go at a 1:1 ratio but adding extra salt to the dish is suggestable to match the flavor of the recipe. Vegan people can easily opt for this alternative in place of soy sauce. If you want to check the best substitutes for Worcestershire Sauce then look at our guide ie., what can you substitute for Worcestershire Sauce? right here.
Tamari
One of the greatest substitutes for soy sauce is tamari sauce as it gives the same taste along with vegan and gluten-free perks. Technically, it is also a keto-friendly substitute after having a high sodium content because there is less than 1 net carb per serving. Basically, tamari is a Japanese-style sauce that is made from fremented soybeans so it matches closely to Chinese soy sauce. The major variations you will find between both sauces are consistency and ingredients. Tamari sauce is thicker than soy sauce and it doesn't contain any wheat ingredient like soy sauce so it became a gluten-free substitute for soy sauce. While replacing, you can use a 1:1 substitution ratio in any type of dish.
Coconut Aminos
Coconut aminos are made from the fremented coconut plant slap which results in dark brown color and a bit of sweet and salty flavored sauce. For people who are looking out for a substitute that is soy-free, wheat-free, gluten-free, vegan, and lower in sodium than soy sauce then using coconut aminos is a perfect choice. You can replace coconut aminos with soy sauce in many recipes like salad dressings, dipping sauces, and marinades at a 1:1 ratio. Related Posts:
Liquid Aminos
Liquid Amino is one more the best soy sauce alternatives. When soybeans are processed with an acidic chemical solution, it breaks down the soy protein into free amino acids and makes liquid aminos. After that, it got neutralized with baking soda. Finally, it results in salty and dark seasoning sauce compared to soy sauce. Liquid aminos are also a gluten-free substitute like tamari as it is made entirely with soy. The sodium in liquid amino is higher than the coconut amino so decide which can be more suitable for your recipe while replacement. Liquid amino is a complete protein concentrated sauce, not a fremented sauce but it provides the same taste as soy sauce, even though milder and sweeter.
Homemade Soy Sauce
Not only store-bought food items can replace soy sauce, but you can also even go with homemade soy sauce that simply mimics and provide the same taste. Want to learn how to make homemade soy sauce and use it as a substitute then stick to this guide and look for the answer below: Making soy sauce at home is pretty easy when you have all the food ingredients required for it in your pantry. The closest replacement for soy sauce is homemade soy sauce so include it in your recipe when you run out of store-bought one. All you require is the below ingredients, they are:
4 tablespoons Beef Bouillon Granules
4 tablespoons Apple Cider Vinegar
A pinch of Black Pepper
1 ½ cup boiling Water
1 teaspoon Sesame Seed Oil (or vegetable or canola oil)
1 tablespoon Dark Molasses
Now, you know the ingredients used to make soy sauce. Gather all of them and start making them by boiling the water and mixing all the ingredients. If bouillon granules get dissolved completely then take off the mixture from the stove and shift the liquid into an airtight container. Last, store the container in the fridge for a month. Replace this substitute with the same amount and prepare your favorite food
How To Use Soy Sauce?
You can use soy sauce as a seasoning to add umami flavor to your favorite savory dishes and enhance their color and taste. The recipes you can try with soy sauce can be simple and hard like fried eggs, and sauteed vegetables. steamed rice, noodles, pasta, sauces, soups, salad dressings, and marinades. You can even use soy sauces in many cooking applications mentioned below:
Seasoned steamed eggplant
Sweet-and-Sour Pork Skewers with Pineapple
Scallion Pancakes
Roasted Squash and Tofu with Soy, Honey, Chili, and Ginger
Carrot-Ginger Dressing
FAQs on What Can You Use Instead of Soy Sauce?
1. What can I use instead of soy sauce in a stir fry?
Fish Sauce, Tamari, Coconut aminos, Worcestershire sauce, Liquid aminos, Miso paste, and Oyster sauce are some of the dope substitutes that can be used as soy sauce replacement in stir-fries and other savory recipes too.
2. What's a healthier substitute for soy sauce?
The healthier alternatives for soy sauce are tamari or liquid aminos. As they are gluten-free substitutes with low sodium. Both can give a similar taste to your recipe along with good health.
3. Can I use vinegar instead of soy sauce?
Yes, you can use balsamic vinegar or red wine vinegar instead of soy sauce as an ingredient in the making of homemade soy sauce alternatives. These vinegar options can mimic the soy sauce but in a lighter version.
4. Can I substitute teriyaki sauce for soy sauce?
Yes, you can substitute teriyaki sauce for soy sauce if you are okay with a bit of sweetness in your recipe. Teriyaki sauce has a different taste but it can be a great substitute for soy sauce in some recipes. So, think about the recipe prior to the replacement later you can save food wastage.