What Can You Substitute For Shortening?: People who are looking for the best substitutes for shortening for frying or cooking or baking recipe can jump directly into this guide and gather all the required details about alternatives.
When you don't have shortening in your pantry and suddenly a new recipe calls for a shortening ingredient to add then these substitutes can be your savior.
For deeper things to know, simply dive into this guide and collect data like what is shortening, what is the best substitute for shortening in baking, frying, and cooking, how to replace them, and more. You may also what vegetable shortening does in a recipe like baking, cooking, and frying.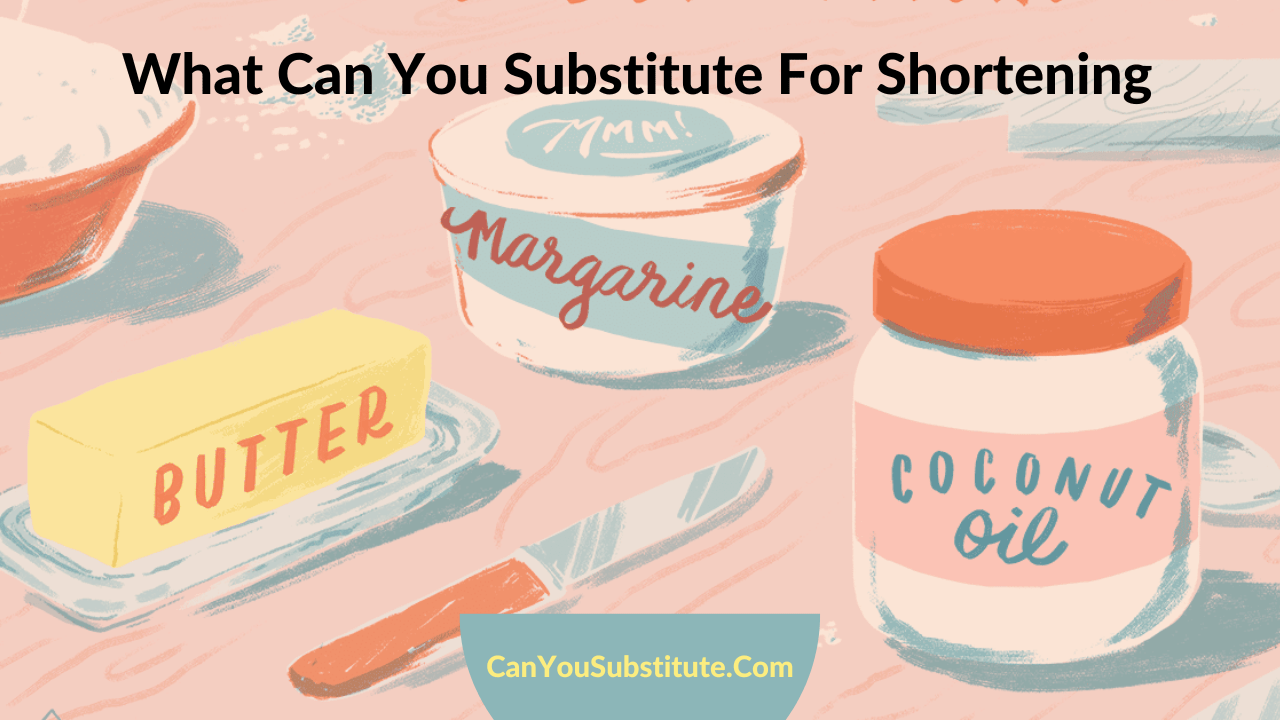 List of Best Substitutes For Shortening For Frying, Baking, & Cooking
Butter
Ghee
Margarine
Lard
Vegetable Oil
Coconut Oil
The above list of shortening substitutes will help you make your recipe complete and provide the actual taste to it. But the only way it can be possible is to choose the right alternative for replacing shortening.
If not you can ruin your recipe so try opting for the best vegetable-shortening substitutes and in no time you can enjoy your favorite food.
Butter
In butter, you can find dairy and vegan butter choices. The butter substitute is the best one out of all alternatives for shortening as it enhances the taste and gives richness to the recipe.
You can substitute butter for shortening in a 1:1 ratio. Butter contains 80% fat and 20% moisture and shortening contains 100% fat. This 20 percent moisture from the butter activates the gluten and provides the best results.
You can use this great substitute for all baked goods like cookies, pie crusts, biscuits, and quick bread. Vegan butter can also be a great substitute for shortening in recipes.
People who leave the animal-based content due to some reasons can use vegan butter as a shortening substitute in a one-for-one replacement. As per the required texture, you can increase or decrease the quantity of vegan butter in the recipe.
Ghee
Ghee also called clarified butter made from milk solids after removing the water. For all high-temperature cooking or frying or baking recipes ghee is the best substitute for shortening.
You can switch it in a 1:1 ratio and cook the desired food with some extra buttery flavor. But ghee is quite expensive than shortening so try swapping it for cooking recipes where it goes in less quantity.
Margarine
Margarine is a vegan-friendly substitute for shortening so dietary and vegan-based food lovers can take this alternative into consideration for shortening replacement and prepare any type of recipe without any worries.
It doesn't matter if you are using it for baking or cooking or frying, it works great while replacing it. This dairy-free spread acts as butter but doesn't taste buttery. So swap at a 1:1 ratio or add extra 1 or 2 tablespoons for richness in the recipe.
Also, the fat content in margarine is less than shortening so no more tension to consume.
Lard
Lard is the oldest fat ingredient used in almost all homes. When shortening came onto the market, the craze of lard has been completed so lard became rare fat used in homes.
But lard is one of the best substitutes for shortening as it matches the texture like a solid at room temperature. Gain the knowledge on how to substitute lard for shortening in baking or cooking recipes and start replacing it in your recipes.
The commonly used swap ratio is a 1:1 ratio but some bakers recommend taking less amount of lard for shortening means for 1 cup of shortening, use 7/8 cup of lard in the recipe.
Make use of this authentic and original fat ingredient when recipes call for shortening and enjoy the traditional taste of biscuits, pie crusts, and bread.
Vegetable Oil
When you don't have melted shortening then vegetable oil can be a great alternative for it. So, consider this neutral flavor and inexpensive vegetable oil as a shortening substitute and make so many dishes like biscuits, scones, pie dough, fries, etc.
For frying vegetables or meat, vegetable oil is the best alternative as it has a high smoke point and gives perfect taste and texture too. Take a swap at a one-for-one replacement and enjoy food.
Coconut Oil
Nature's shortening substitute is coconut oil. In cold temperatures, it solidifies like shortening and completely 100% fat content. Replacing it for shortening is the perfect option so make the best out of it by swapping at a clear 1:1 ratio.
The only difference you may find is its flavor, coconut oil has a strong & distinct flavor, unlike shortening. So, based on your recipe if it fits and you don't have any problem with the flavor then follow the recipe and use it for any type of dish you prefer like baking cookies, frosting, etc.
By using the refined version of coconut oil in place of extra virgin coconut oil, you can absolutely cut off the coconut flavor in the end product.
FAQs on What Can I Substitute for Shortening In Baking, Cooking & Frying?
1. What can I replace vegetable shortening with?
You can replace vegetable shortening with lard or margarine or butter or ghee. These three substitutes are used mostly for shortening as it mimics it very equally.
2. What is the best shortening for baking?
The best shortening substitute for baking is lard as it was the first 100% fat ingredient and perfect for replacement than butter and margarine. The availability of lard these days is tough so you can reach out to easy yet best substitutes butter or coconut oil.
3. What does shortening do in a cake?
In a cake, shortening does trape the air molecules that help to leaven cakes and prepare them to tender.
4. How do I substitute butter for shortening?
The standard measurment of substituting butter for shortening is a 1:1 ratio means for one cup of shortening in the recipe, take one cup of butter. But we recommend you start with using the small amount called for in your recipe then as per the taste you can add more.
5. Can you substitute oil for shortening?
Yes, you can absolutely substitute oil for shortening in baked goods or cooking or frying. Always follow the recipe and instructions to replace the oil for shortening to get the perfect taste and texture of the food.
Final Thoughts
Always sharing the best things about food can help others to solve their issues or else show them the right path to prevent damage in the future. Today with this article, we have shared the data on what can you substitute for shortening this assists a number of people who don't have shortening at hand.
So keep on learning small things from our food website and gain some knowledge on substitutes for vegetable shortening or other foods like What can you substitute for vegetable oil, Can You Substitute Coconut Oil For Vegetable Oil, and more.