What Can You Substitute For Baking Soda?: If you run out of baking soda while cooking or baking or cleaning you may think "Is there anything I can substitute for baking soda?"
The answer to your query is an absolute yes, there are some clever and best substitutes for baking soda that can be replaceable in recipes and in cleaning too.
What Can You Use Instead of Baking Soda? Can You Leave Out Baking Soda? What is the best substitute for baking soda are a few other questions you may wonder when you don't have baking soda in your hands.
The only solution to all such questions is our guide. So we suggest continuing your read & get full clarity on the same.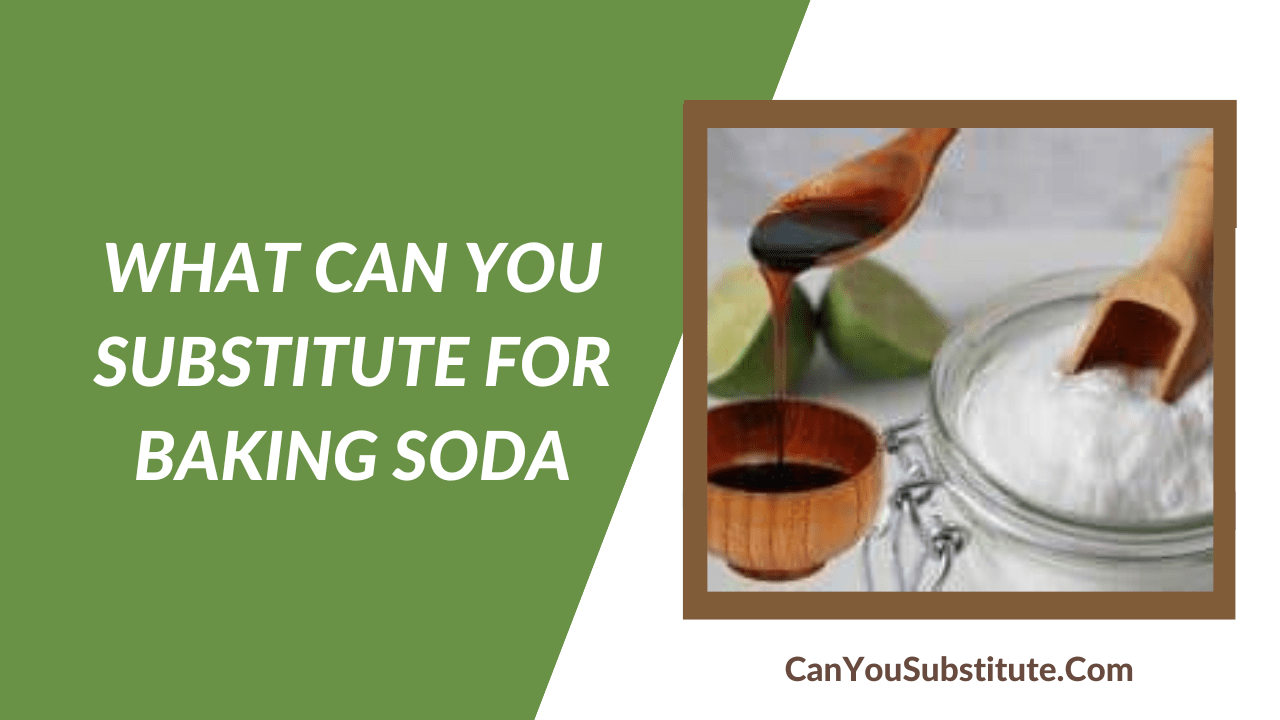 Best Substitutes for Baking Soda in Baking & Cooking Recipes List
Baking Powder
Egg Whites
Self-Rising Flour
Baker's Ammonia
A list curated with the names of the best alternatives for baking soda in cooking and baking is here. For a detailed explanation of each substitute of baking soda, you should refer to the below modules carefully.
It includes what actually it is, how much to swap, how it works after replacement and many other things related to the substitution.
Baking Powder
Baking powder is the best substitute for baking soda no doubt as it comes under the same family but the power of baking powder is less than baking soda.
Hence, baking soda is a three times more powerful leavening agent than baking powder so the substitute ratio is 1:3 means for one tsp of baking soda, you have to add three tsp of baking powder.
This substitution ratio works even better when you use it in sugar-based and dense as it may give a distinct texture when used individually.
To know more about baking powder and its best substitutes simply look into our guide ie., What can you substitute for baking powder?
Egg Whites
Whipped egg white is one more alternative for baking soda as it can produce structured recipes and include leavening capabilities. This substitute is even better as a baking powder substitute but for baking soda, it can work in a pinch.
So if you run out of baking soda and baking powder then use this substitute in your recipes for rising the final product. How to substitute egg whites for baking soda is explained below:
First, take the egg whites in a bowl and whisk or blend it well until it reaches stiff and foamy.
Now, measure the whipped whites in a liquid measuring cup and swap it with the same amount of liquid in the recipe.
For related substitute details for eggs, you can check this link - What can you substitute for eggs?
Self-Rising Flour
Self-rising flour is a mix of all-purpose flour, baking powder, and salt that deal with rising in all baked goods. As we all know baking soda is mainly used as a leavening agent that goes under chemical reactions and rises your baked good.
In case, you use self-rising flour then there is no point to add the leavening ingredients separately. The substitution of self-rising flour for baking soda is a little bit complicated. Because the whole recipe will change if you use self-rising flour.
Around, 1 1/2 teaspoons of baking powder and 1/4 teaspoon of salt are included in a cup of self-rising flour so deciding the quantities of other ingredients is a tricky part.
If you run out of all-purpose flour when baking then you can even use this self-rising flour and enjoy your baked good with the same taste and texture.
Want to know more about the same then look at this article called Can you substitute self-rising flour for all-purpose flour?
Baker's Ammonia
A clever and practical alternative for baking soda is Baker's ammonia or ammonium carbonate. During the 13th century, Baker's ammonia was the most commonly used chemical leavening agent.
In modern baking exercises, this ingredient is used to replace baking powder and baking soda in almost all recipes that call for it, so still, we are using this substitute to rise and give different crispiness to baked goods.
The substitution ratio to replace baking soda with baking ammonia is a 1:1 ratio in a few recipes. When you are planning to bake light, thin textured goods then the ammonia works great without any negative effects in the final outcome.
If you want to add baking ammonia in baked goods with thick crumbs, such as cake or muffins then your baked goods can smell unpleasant. Because baking ammonia releases carbon dioxide and ammonia when it is mixed with heat and acid. Also Read:
What Can You Use for Baking Soda in Cleaning?
The outstanding yet inexpensive product that does wonders in cleaning is BICARBONATE of soda, also called baking soda.
But if you don't use baking soda in your cooking or else you have run out of baking soda from the kitchen store then the alternate products to use instead of baking soda in cleaning are as listed.
White Vinegar
Salt
Castile Soap
Lemon Juice
White Vinegar
Iconic cleaning pair is baking soda and white vinegar. But white vinegar is also a powerful cleaning product like baking soda. It can do wonders with full strength and diluted.
So, use the white vinegar alone and clean all your hard stains, dirt, odors, mildew, and grease around you and at your home too.
Salt
One of the most commonly used and staple ingredients in the kitchen is salt. Also, it is used as a cleaning product. You can get this ingredient in any place at the cheapest rate but it functions in many ways like cooking, cleaning, etc.
You can substitute salt for baking soda in cleaning individually or with other cleaning products. Salt with hot water can clean your clogged drain quite easily and breaks the gunk in seconds.
Castile Soap
The cleaning hacks with baking soda are more useful and helpful, but cleaning hacks with castile soap is also mindblowing.
You can use this product for cleaning your body, washing your hair, rinsing your fruits, cleaning your kitchen, etc. but using separate soaps for different hacks is suggested.
Or else, you can use liquid castile soap mixed with water and pour it into a spray bottle for use in different cleaning hacks. Almost everything and any work can be done with this liquid so it is pretty much a good substitute for baking soda in cleaning.
Lemon Juice
A fully acidic ingredient is lemon juice. The best cleaning product that cleans every hard dust or strain is acid. So, lemon juice can be a good substitute for baking soda as it includes antibacterial and antiseptic.
Lemon juice is a natural bleach. Make a paste of lemon juice and salt to use on rust places and scrub. After some time rinse the rusty place or thing with warm water.
Also, lemon juice helps to remove hard water marks, stains in the microwave, limescale, wooden chopping board, insects, etc. So, lemon juice is also a clever substitute for baking soda for cleaning. Related Articles:
Can You Skip Baking Soda? | Why Do You Need An Alternative For Baking Soda?
Technically, you can leave our baking soda in some dishes such as cookies, pancakes, or chocolate chips, but the only result you get at the end is unfluffy, flat, and dense.
You can even add another leavening agent to rise and fluffy product in place of baking soda. As we explained above about baking soda substitutes, choose any one that suits your recipe and experience a similar result to the original dish.
But there are some baked goods such as muffins, cakes, and pancakes that can't rise without baking soda or any other substitute.
Can You Substitute Yeast For Baking Soda?
Simply no to use yeast instead of baking soda when baking. We all know that both are leavening agents but using yeast is different from the usage of baking soda.
Hence, it is not recommendable to replace or swap one for the other in recipes. Don't worry! check the above list of baking soda alternatives and replace baking soda in the baking or cooking recipes.
Nutrition Facts About Baking Soda
As stated by the USDA, the facts about baking soda nutrition for 1 teaspoon (4.6 grams) is as follows: Sodium: 1260 mg Fat: 0 grams Calories: 0 Protein: 0 grams Carbohydrates: 0 grams Sugar: 0 grams Fiber: 0 grams
FAQs on What can I use instead of bicarbonate of soda?
1. What can I substitute for 1 teaspoon of baking soda?
There are so many substitutes that can replace baking soda like Baking Powder, Self-Rising Flour, Egg Whites, etc. So if you take baking powder as a substitute for 1 tsp of baking soda then use three teaspoons of baking powder in your desired recipe.
2. Can I substitute baking powder for baking soda?
3. What can you substitute for baking soda and baking powder?
Self-rising flour is a great substitute for baking soda and baking powder as it includes all the ingredients that need to help your baked good rise.
4. What can you substitute for baking soda for cleaning?
You can use diluted white vinegar, bleach, borax, and table salt as a substitute for baking soda for cleaning dirty toilets, tubs, or sinks and stubborn stains.
Key Takeaways
Now you have aware of what to substitute for baking soda in recipes so think wisely before replacing it in the recipe or as a cleaning agent.
If you need other food substitute assistance to deal with your recipe at the last minute then visit our website @canyousubstitute.com and clear all your queries in seconds.