Can You Substitute Milk for Buttermilk?: Is that possible to substitute milk instead of buttermilk in baking and cooking? If yes, then everyone wonders how can you use milk for buttermilk in recipes.
We all know that milk doesn't contain any acidic properties but buttermilk does have so but are not at all stand on the same page.
Knowing about buttermilk and milk can be used interchangeably in baking and cooking is an important point for everyone who is looking for a buttermilk substitute.
Jump into this guide without any delay and clear your queries on whether can you use milk instead of buttermilk in seconds.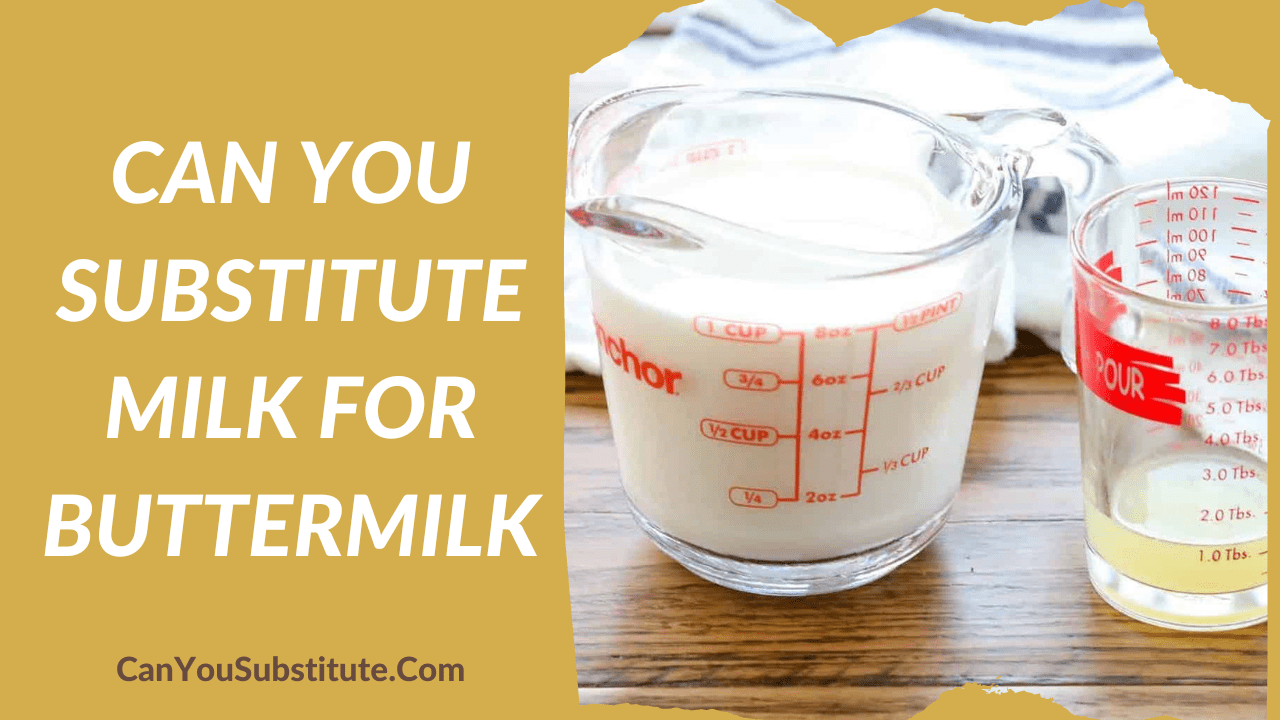 Can You Substitute Milk for Buttermilk In A Recipe?
No, plain milk can't be used as a substitute for buttermilk because of the acidic nature involved in the buttermilk.
If you have added any other acid ingredient to the milk then it can be treated as a buttermilk substitute otherwise there is no chance of replacing buttermilk with milk in recipes.
To make the buttermilk substitute with the help of milk, you have to check out the below modules in detail. Similar Posts:
How To Make Buttermilk Substitute From Milk?
Follow this simple module and make buttermilk from plain milk on your own in no time. With the two main ingredients in your kitchen, you can easily make buttermilk substitutes for recipes.
There are three ways to make buttermilk alternative from milk:
Milk with Vinegar
To replace buttermilk with milk in recipes, you need to combine milk and vinegar in a large glass or measuring cup.
Simply take a measuring cup and add one tablespoon of vinegar and milk till it touches the 1-cup line for 1 cup of buttermilk substitute. Now, stir the mixture and leave it for 5-10 minutes to form like buttermilk, and use it in the recipe.
Milk with Lemon Juice
If you don't have buttermilk and vinegar in your kitchen store then milk and lemon juice can be good substitutes for buttermilk. For one cup of buttermilk, add the same amount of milk after combined with a spoonful of lemon juice.
Once you mix the lemon juice in milk, let it sit for 5-10 minutes to curdle and form like buttermilk. This simple buttermilk substitute will perform better in recipes but doesn't be as thick and creamy as buttermilk. Do Check: Can You Substitute Lime Juice for Lemon Juice
Milk with Cream of Tartar
If you run out of lemon juice and vinegar, then cream of tartar is one more easy option to add as an acidic ingredient with milk to make a buttermilk substitute.
To make that possible, take 1 cup of milk and 1-1/2 teaspoons cream of tartar, combine both and leave it for some time to use as an alternative for buttermilk in baking & cooking recipes.
If you don't have any dairy products with you but the recipe is calling for buttermilk then refer to our guide on what can you substitute for buttermilk and discover what are the best non-dairy substitutes for buttermilk to use in recipes and get the same result as the original dish. Related Milk Substitutes Articles:
FAQs on How Can I Replace Buttermilk With Milk In A Recipe?
Final Thoughts
Hoping that we have covered all the information regarding how can you substitute milk for buttermilk in recipes with the substitute ratio.
In case, you need any other detail on buttermilk substitution with milk or other food substitutions for certain ingredients kindly look at our website @canyousubstitute.com on a daily basis and find the required food substitute article in no time.